Kittens, kittens everywhere!
:
Been meaning to do this entry for over a week now, so here we go:
As I mentioned in my previous post, I´ve taken to do some volountary work at the animal protection centre for cats here in town. Now, being a full-time working gal that I am, I unfortunately don´t have time to help as often as I would. I´ve only had two shifts so far (each shift is 4 hours, so you can see... it takes half a day) and I´m going back there this Sunday from 1-5 pm.
Of course I´m trying to help as much as I can, so in addition I´ve also bought an annual membership and you can also support one or several cats with a montly figure. So that means I´m paying over NOK 1,500 a year, that´s gotta be worth something, right?
So that means... I got myself an adoptive kitty (I want another one in time too)! Allow me to present Chili! Isn´t she a cutie pie?
(Obviously she had to be approved by The Birman Prince who was very relaxed about it all. I don´t think he cares much for animals.)
In the intro letter I got it said that Chili is a kitty who´s not too outgoing, although she´s very cuddly and likes to chat. She does however get a bit frustrated when you don´t understand what you´re saying. I have to say I didn´t get to talk too much to her the last time I was at the shelter, she was on her way to take a nap as you can see from these pictures.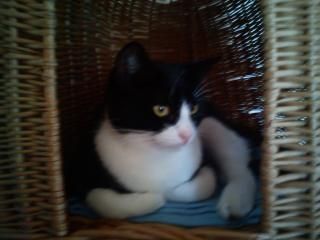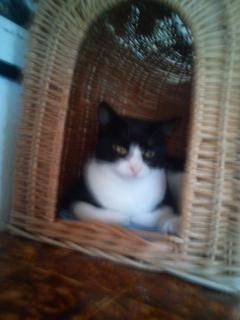 Moving on to a diffrent cat, namely this one: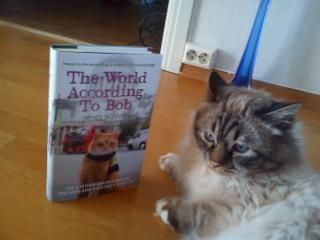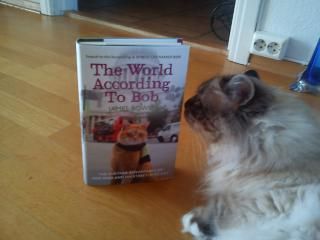 (He needs to approve just anything, doesn´t he!)
Now, as a cat-lover, you must have been living under a rock if you haven´t heard of this bestseller, or I should say two, because there is a sequel. The second one came out in the UK this spring and had its debut in the US only last week.
And let me just open my review by saying that these books is a MUST-READ if you love cats!
So basically: Recovering drug addict and street musician meets stray and injured cat, man and cat become friends, cat follows man to work, the crowd is delighted, man and cat get fame and (hopefully by now!) fortune.
As I mentioned, this book is a bestseller and rightly so for three reasons:
1) The strong appeal to cat lovers. I mean, we could just happily read books and books about cats doing... well nothing, right? I know I enjoyed nothing more than reading about Bob munching away on his food, washing his face and then jumped up on the window sill to happily stay there the rest of the day. Or something like that.. but you get my drift.
The more dramatic events in the book, like Bob being scared by something on the street and runs away, I got a lump in my throat from.
2) An utterly perfect and heartwarming description of how strong a bond between human and animal can get and what a difference having a pet can make. I don´t mean to sound condescending in any way, but I´m not sure you can really understand it unless you´ve had a pet yourself. I really believe it is like having a baby and this book describes very well how the support, the affection and especially the feeling of responsibility of another individual´s safety and well-being can change and improve one single person.
3) The last and maybe the most important message of the book: It gives people living and working on the streets a face and a voice. As the author states in the book: When on the streets you become invisible. I´m sure most of us recognise it in ourselves, I know I do - how often don´t you rush past people playing on the streets or selling magazines thinking things like "I don´t have any change right now, I can´t afford to help them all, I don´t dare to stop and/or look at him/her in case he/she´s unstable and violent etc etc". I´ve been guilty of them all. And I´m proud to say this book has changed my aspect.
These days I try to have some change available, and even if I don´t I will at least acknowlede their presence with a nod or a smile. And the times I HAVE been in contact with them, I have found them all to be as pleasant and polite as any seller I might encounter in any shop. Just as pleasant as the writer of this book. Prejudice, all prejudice.
So there you go. I defy anyone who doesn´t fall completely in love with this book after reading it. It´s bound to bring both a smile to your face and tears to your eyes. Go buy it. GO. BUY. IT!!!
I´ll round off this entry with another picture of Murano The One Furry Frodo Cat: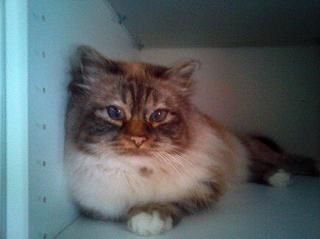 MEEOOWW!!
Current Mood:
accomplished
Current Music: I´m walking right in the middle of Main St. USA, Disneyland
Tags:
books
,
personal
,
photos